Summer is drawing to a close. The leaves on our maple tree are starting to turn orange, I'm seeing pumpkin and apples on sale everywhere, and even the sun is starting to set earlier….(WAHHH)
The only thing that hasn't changed so far is the weather. We hit over 100F degrees this past week! CA-RAZY.
Even though I'm sad that summer is almost over, I'm reaaaaally excited for this fall! I'm in the midst of planning a TON of fun stuff on the blog that you definitely won't want to miss. Sorry to keep you in suspense but you know I love surprises. At least when I know what they are. Ha-ha. 😉
This was a pretty crazy summer with a lot going on, and between my family we took a LOT of photos. I thought maybe you guys might be interested in taking a little peek into my summer.
K. I'm gonna stop talking in a short bit here and let the photos do the speaking for me.
But I've got a SUPER-quick P.S here: If you're looking for a GREAT photo canvas company, I would highly recommend Easy Canvas Prints. Their prices are amazing and they have so many photo canvasing options you can choose from! They contacted me a while back and asked me to write a review for them PLUS offered to send me a FREE canvas print with my choice of photo. I'm no fool—I quickly accepted their generous offer!
It was hard to narrow it down to one photo, but I just loved this photo of Rachel I took in the beginning of summer and had to pick this one.
It was so much fun picking out my own photo border, frame, ect. (they let you design your own canvas!) And the quality of the photo turned out amazing on the canvas board. It also looks pretty awesome sitting in my living room. 😀
Seriously, go check 'em out! I guarantee you won't be able to leave their website without spending some money. 😉
Let's move on to the actual photos shall we?
JUNE:
End-of-the-year dance performances. You can't tell, but I was sweating up a storm up there!
Big bro graduated from college!
Summer desserts = Best thing ever.
Recipe HERE.
I love summer, so I'm gonna LEAP for joy!
Family baseball game at the ballpark for Father's Day. — 3-year old niece Josie is up to bat!
Ice pops made frequent appearances all month/ALL summer. ZE-RO complaints from the fam. 😉
(recipe HERE)
I had a blast doing a photoshoot with my brothers family in June. Love my goofy nieces to pieces. 😀
First grill-out of the summer! On our new grill. 😀
First corn on the cob of the season! With herb butter of course. 😉
(Grilled Corn-On-The-Cob with Basil Butter)
Summer walk with my bros on the weekend of Daniel's college grad party.
Salad, salad, and MORE salad.
JULY:
Hot days working a double-shift at my lifeguard job called for homemade iced coffee. With strong-brewed coffee, of course.
Rachel and me entertaining ourselves at boring baseball games…
Brownie testing on lazy summer days. ♥
Family time at my great-aunt and uncle's house in Chicago.
It's not summer without homemade pink lemonade.
Happy 4th of July from Lilly!
4th of July cook-out. So. Much. Food.
Rhythm and Booms firework show in Madison.
Homemade chocolate-covered pretzels made by my sister-in-law, Jessica.—I ate waaaaaay too many of these awesome 'thangs…
Worth it. 😀
Love hanging out with this little peanut. (niece, Lilly)
Ice cream nights = definitely a must. 😀
With extra, EXTRA homemade fudge sauce. ♥
My #1 recipe-taster and cookie-snatcher little sissy celebrated the big FOUR on July 7th. She requested "lots and lots of chocolate cake" for her birthday dinner/dessert. Good plan, Rach. 😀
AUGUST:
Sweet little Kaylee River (my 5th niece!) was born August 11th. P.S. Don't tell my sister I want to steal her from her. 😉
The fam all got together and visited the Henry Vilas Zoo in Madison.
My sister-in-law, Jessica and I had a little too much fun on the zoo train. Don't even ask me what Jessica was thinking wearing that hat…
Now Rachel, she can definitely pull it off…
I wasn't kidding when I said that our veggie garden was going ca-ca-ca CRAZY!
I made batch after batch of this awesome Simple Roasted Tomato Sauce from Foodie Crush with all our millions of tomatoes. 😀 So good even by the spoonful!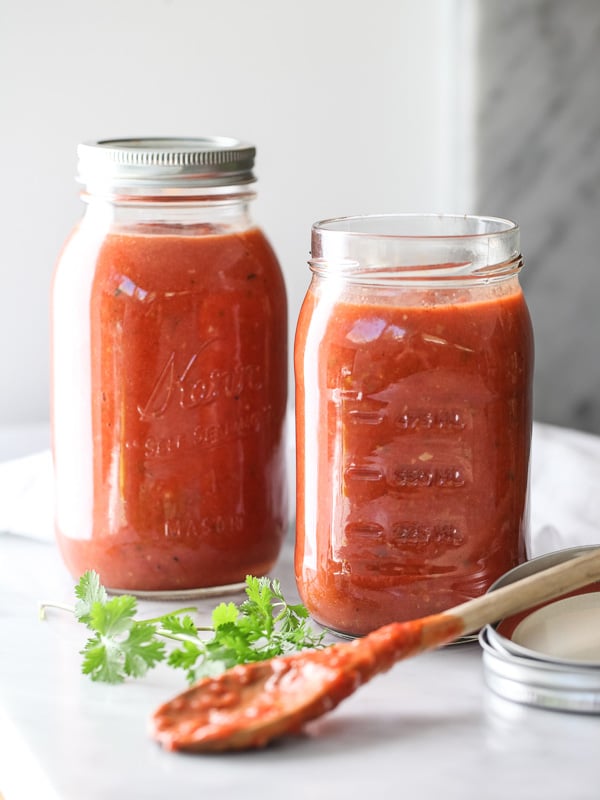 Lots of pool time with the kiddos.
A glass full of boozy summer happiness to end this exhaustive photo overload. 😀
(Sparkling Strawberry Peach Sangria)
Have a great Labor Day weekend you guys! Any fun plans??
More food tomorrow. 😀